:Syslog.gr: - a Site about Computers, Open Source, Security, SysAdmins and more ...
The National Clinical Terminology Service has been re-engineered to reduce complexities and costs. …read more
Source:: ZDNet
Social network's effort to merge WhatsApp, Messenger and Instagram may help keep the company together too, FTC chief tells the Financial Times. …read more
Source:: CNet

Tesla has managed to expand its electric-car marketshare, despite two new battery-powered luxury SUVs that have been in U.S. showrooms for the last 10 months: Jaguar's I-Pace and Audi's e-tron. Bloomberg reports: Their starts are the latest indications that legacy automakers aren't assured instant success when they roll out new plug-in models. Tesla's Model S and X have largely held its own against the two crossovers that offer shorter range and less plentiful public charging infrastructure. Jaguar and Audi also lack the cool factor Musk has cultivated for the Tesla brand by taking an aggressive approach to autonomy and using over-the-air software updates to add games and entertainment features. Tesla's Model X and Model S each boast more than 300 miles of range, and the cheaper Model 3 travels 240 miles between charges. Jaguar's $69,500 I-Pace is rated at 234 miles, and Audi's $74,800 e-tron registers 204 miles.
Jaguar's marketing team spent years laying the groundwork to introduce the I-Pace. In 2016, the brand joined Formula E, an open-wheeled, electric-powered race circuit similar to Formula One. Porsche and Mercedes-Benz are also joining Formula E for the 2019-2020 season to help generate buzz for the new all-electric models they have coming out. The circuit makes stops in cities including New York, Hong Kong and London, which the brands are banking on as major markets for plug-in cars. But while Formula E is drawing crowds of urban dwellers and a substantial audience on social media, all that buzz may not necessarily translate into showroom traffic.
of this story at Slashdot.
Source:: Slashdot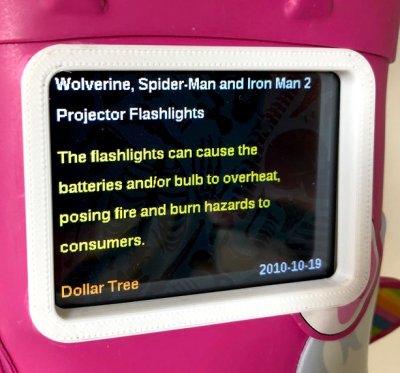 Product recalls are one of those things that most people don't pay attention to until things get really bad. If it's serious enough for somebody to get hurt or even die, then the media will pick it up, but most of the time they simply pass by in silence. In fact, there's a decent chance that you own a recalled product and don't even know it. After all, it's not like anyone is actually watching the latest product recalls in real-time.
Well actually, there might be one guy. [Andrew Kleindolph] has created a cute and cuddly gadget using CircuitPython on the Adafruit PyPortal to display the latest release from the United States Consumer Product Safety Commission (USCPSC). In a wonderfully ironic touch, the child's unicorn boot that the device lives in is itself a recalled product; apparently kids could pull off the "horn" and choke on it.
The PyPortal is basically built for this kind of thing, allowing you to easily whip up a display that will scrape data from whatever online source you're willing to write the code for. All [Andrew] had to do was pair it with a battery so the boot could go mobile occasionally (we're told they're made for walkin'), and design some 3D printed accoutrements such as a screen bezel and charging port.
As these recalls (thankfully) don't come out quite so fast that you need it to update more than once or twice a week, it seems like this could also be an excellent application for an Internet-connected e-ink display.
Source:: Hackaday
File under: 'Breaking' news
iPhone hackers have discovered Apple's most recent iOS update, 12.4, released in July, accidentally reopened a code-execution vulnerability that was previously patched – a vulnerability that can be abused to jail-break iThings.…
Source:: Register
Porsche's upcoming EV will have the first built-in application of Apple's new music service. …read more
Source:: CNet

The U.S. military has conducted a flight test of a type of missile banned for more than 30 years by a treaty that both the United States and Russia abandoned this month, the Pentagon said. The Associated Press reports: The test off the coast of California on Sunday marked the resumption of an arms competition that some analysts worry could increase U.S.-Russian tensions. The Trump administration has said it remains interested in useful arms control but questions Moscow's willingness to adhere to its treaty commitments. The Pentagon said it tested a modified ground-launched version of a Navy Tomahawk cruise missile, which was launched from San Nicolas Island and accurately struck its target after flying more than 500 kilometers (310 miles). The missile was armed with a conventional, not nuclear, warhead.
Defense officials had said last March that this missile likely would have a range of about 1,000 kilometers (620 miles) and that it might be ready for deployment within 18 months. The missile would have violated the Intermediate-range Nuclear Forces (INF) Treaty of 1987, which banned all types of missiles with ranges between 500 kilometers (310 miles) and 5,500 kilometers (3,410 miles). The U.S. and Russia withdrew from the treaty on Aug. 2, prompted by what the administration said was Russia's unwillingness to stop violating the treaty's terms. Russia accused the U.S. of violating the agreement. The Pentagon says it also intends to begin testing, probably before the end of this year, an INF-range ballistic missile with a range of roughly 3,000 kilometers (1,864 miles) to 4,000 kilometers (2,485 miles).
of this story at Slashdot.
Source:: Slashdot
The company is also set to launch Kogan Mobile New Zealand sometime next year. …read more
Source:: ZDNet
If confirmed, it would be the first neutron star-black hole merger ever detected. …read more
Source:: CNet

Twitter is now blocking state-run media outlets from advertising on its platform. The new policy was announced just hours after the company was criticized for running promoted tweets by China's largest state agency that paint pro-democracy demonstrations in Hong Kong as violent, even though the rallies, including one that drew an estimated 1.7 million people this weekend, have been described as mostly peaceful by international media. TechCrunch reports: State-funded media enterprises that do not rely on taxpayer dollars for their financing and don't operate independently of the governments that finance them will no longer be allowed to advertise on the platform, Twitter said in a statement. That leaves a big exception for outlets like the Associated Press, the British Broadcasting Corp., Public Broadcasting Service and National Public Radio, according to reporting from BBC reporter, Dave Lee. The affected accounts will be able to use Twitter, but can't access the company's advertising products, Twitter said in a statement.
The policy applies to news media outlets that are financially or editorially controlled by the state, Twitter said. The company said it will make its policy determinations on the basis of media freedom and independence, including editorial control over articles and video, the financial ownership of the publication, the influence or interference governments may exert over editors, broadcasters and journalists, and political pressure or control over the production and distribution process. Twitter said the advertising rules wouldn't apply to entities that are focused on entertainment, sports or travel, but if there's news in the mix, the company will block advertising access. Affected outlets have 30 days before they're removed from Twitter and the company is halting all existing campaigns.
of this story at Slashdot.
Source:: Slashdot
:Syslog.gr: - a Site about Computers, Open Source, Security, Log Management, SysAdmins and more ...